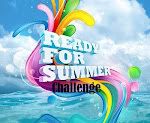 Kinda funny, but not the first time I've taken part in a "Summer challenge" here in our Australian Winter :)
That's cool.
It's about the support and challenge, not the season.
Week 1 task - set goals!
This will be good.
Weight loss - 10 weeks, 10 kg! (That's 20lbs)
NSV (Non-Scale Victory) - Get into my size 10 dress!
Exercise - Bootcamp 6 days a week!
Nutrition - No alcohol except Saturday, limit 3. Otherwise, track & post calories - goal 1300/day
That's it!
Just Faithfully Do It!